Now that I have your attention, I just want to complain one more time: it's still cold. But I think that pretty soon we're going to be complaining about how hot it is, right? In the spirit of wishful thinking, I've been working on my core a lot lately. I didn't want to wait much longer to start working on my lean, mean summer body, and you shouldn't either.
A quick note before we talk about getting a ripped six pack. Despite what the supplement companies state there is no magic pill to help you lose stomach fat. There is also no magic food that you can eat that will help in that department either. The only way to melt fat from your midsection is to eat a clean diet of lean protein, vegetables, fruits, and whole grains. You should also be diligent in your cardio, (AT LEAST three days a week), and strength train your total body at least twice a week for overall tone and balance.
Try these exercises to start sculpting a tight midsection. Start now and you'll be thanking me in June.
Crossover Crunch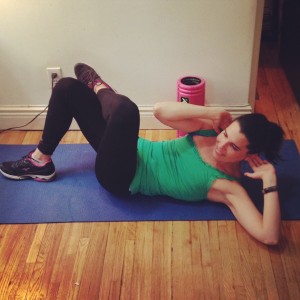 Works abdominals, internal and external obliques, the "waist" muscles.
Lay on your back with your knees bent and hands behind your head. Place you left ankle on your right knee. Crunch up and moving diagonally, bring your right elbow towards your left knee. Contract your abs at the top of the motion. Lower to start and repeat on that side for 12-20 reps, depending on your fitness level. Switch sides and repeat.
Hanging Leg Raises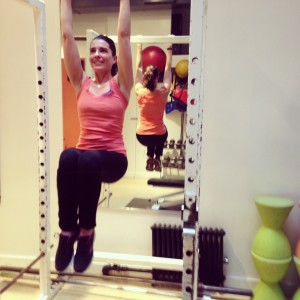 Works abdominals and hip flexors
This move is a advanced. Fortunately for beginners, most gyms have a captain's chair which you can use to do this same movement. If you've been working out for a while, hang from a chin-up bar with your hands in either a wide or narrow grip. Before you start, pull your shoulders away from your ears. Raise your knees up to a 90 degree angle from your torso, then lower down with control. Each rep should be slow and deliberate, don't swing through the movement.  If you are  having difficulty hanging from the bar, look around for ab straps, which you can place under your armpits. Try this one for anywhere between 3- 8 reps, unless you are super awesome and can perform double digit reps.
Dead Bug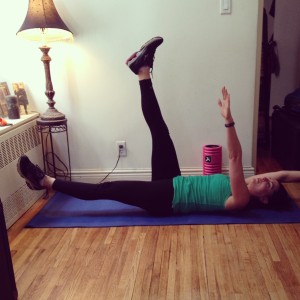 Works the deep core muscles and stabilizes the lower spine.
Lay on your back with your knees bent, feet on the floor and tighten up your core muscles. Extend your arms above your shoulders and your legs over your hips. Beginners should keeps their knees bent, while more advanced exercisers can straighten out their legs. Inhale, and lower your left leg and your right arm until they are about an inch away from the floor. Exhale and return your limbs to the original position. Switch to the right leg and left arm. Perform this move for 8-10 reps per side. Maintain the position of your spine throughout the exercise.  If you feel this in the lower back, keep your knees bent throughout the movement or keep your arms at your sides.
Try each exercise for 3 sets. Let me know how it goes!
[contact-form-7 404 "Not Found"]