What kind of advice do you have for someone who is looking to develop their push up proficiency? I can currently do 5 push-ups from my knees. —Jamie Lynn
Go Jamie Lynn! There's a reason  you always see trainers making their clients do push-ups. Personally, I do push-ups almost every time I strength train my upper body. They are the perfect exercise for beginners and gym rats alike. A push-up is a compound exercise that strengthens and tones the chest, shoulders, back, and abdominal muscles, as well as stabilizing the shoulder girdle.
They are also very challenging. Since you are only able to do five push-ups from your knees, the best thing to do is actually regress the movement, and do your push-ups in the incline position from a bench.  Start by doing a plank on any surface that will put you at an incline, then slowly lower yourself down.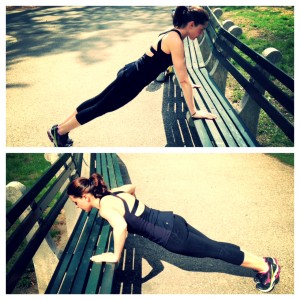 Don't leave your butt in the air! Tuck your pelvis, and as you lower yourself towards the bench, make sure you keep your hips in line with your body. 
Every time you strength train at the gym you should do three sets of ten bench push-ups at the beginning of the workout, preferably before your cardio. Once you can do this, it's time to move to knee modified push ups from the floor.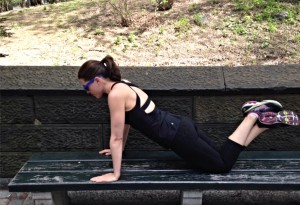 Again, work your way to three sets of ten reps. At this point, you should start adding real, from the toes push-ups into your sets. Each week, try to add at least one or two"real" push-ups. Eventually, you will be able to do full sets of manly-man push-ups, I promise!
Besides the actual exercise, you can also strengthen your push-up power by working the same muscles with dumbbell presses, bench presses (just start with the bar if you're new to this) and the smith machine. Make sure you lower the bar slowly all the ways down to your chest so you get full range of motion. Since push-ups also use the triceps, finish up your work-out with triceps kickbacks, rope extensions or skull crushers.
Vegetarian Life
I'm reading Eat To Live by Dr. Joel Fuhrman to get me psyched up for my months of vegetarianism and veganism.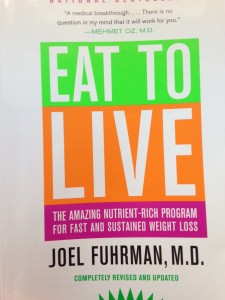 Fuhrman's book states that a vegan or near vegan diet is the cure for chronic diseases like diabetes, obesity, and heart disease. And if that sounds familiar, then you must be remembering my first post about the paleo diet, which claims the exact same thing! The one thing the two books seem to agree on is that wheat and dairy should be avoided. There goes my pizza party!
It's not even my first week of vegetarian, so I'll update my blog again soon.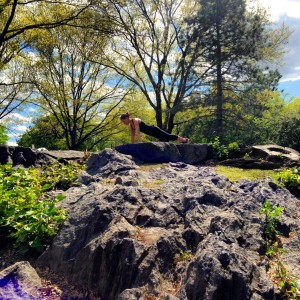 I just really like this picture.