"I get it. You want lean, strong legs (and a tight, lifted butt). The problem is, in the quest for toned thighs, we often overdo it and end up with big old bulky legs…I'm not saying don't ever run or spin or use the leg press machine at the gym, but doing so several times a week can create thigh thickness…" –Tracy Anderson
Thank you, Tracy for warning me off my favorite exercises like running and spinning. I wouldn't want to (gasp) get "bulky" legs from putting on any unsightly muscle.
SIGH.
First, Tracy is wrong.  I regularly take spin. I weight train my legs with both heavy and light weights. Up until a month ago when I injured myself, I ran several days a week. While I'm not rocking a thigh gap (and wouldn't want to anyway), my legs aren't bulky. Spinning and running are endurance exercises, which use slow twitch muscle fibers. These muscles do not bulk. Also, unless she is genetically predisposed with the ability to put on a lot of muscle, the only way for a woman to bulk is to eat. That's it. Anybody that looks like is body builder is probably working very hard for those results.
Which brings me to my next point: even if it were possible for spinning and running to add bulk to legs, SO WHAT? Why does everyone assume that a woman doesn't want to "get big"?  Because I'm a female I need to be stick thin? If my pursuit of a nice booty means my thighs get a little bigger, than so be it.  And I'm not the only one who feels this way. This group of sporty people just started their own jean company for muscular legs: http://www.huffingtonpost.com/2014/04/22/barbell-apparel-denim-jeans-for-athletes_n_5192767.html
Instead of worrying about putting on too much muscle, which again, is not likely if you are a lady (sorry, I never met a dead horse who I did not want to beat), why not celebrate the fact that we are working out? For some, it's a miracle that they can squeeze a few spin classes into their busy schedules. Let's be happy that we're exercising and getting stronger, not stressing over a stupid fear of looking "too big".
Women's fitness has come a long way. We say things like "Strong is the new sexy" and I think we actually mean it. Although sometimes that sentiment is accompanied by pictures like this-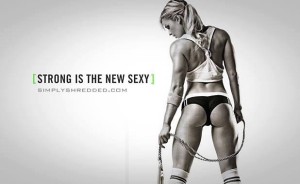 Oh no! Somebody should tell her she forgot to wear her pants to the gym!
-the evidence that the ladies are killing it at the fitness game is right there in every Crossfit and BodyPump class. Besides being the consumers, we're also leading the charge to create new ways to get your sweat on. The hottest boutique cycling studios, Soul Cycle and Flywheel, were created and are currently run by women.
Let's keep running, spinning, swimming, or doing whatever the hell it is we like to do and celebrate that we can improve our bodies and our minds through exercise. I'm on my way to a spin class. I hope I see you there.
Next week I'll share some vegetarian recipes and products I've come across during my 3 month diet experiment. Got any tips on how to be a healthy vegetarian? Let me know on Facebook.com/blitzyourbody or Twitter @AmyBlitz1