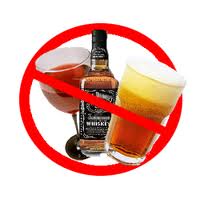 September is here.  People go back to work, kids go back to school and everyone gets the almost New Years-type feeling that now is the time to get serious about health and weight loss.
Sober September is a month long "detox" I am encouraging my clients to do to get them back on track after a summer of vacations, traveling and BBQ's. It's simple: abstain from alcohol and eat only healthy foods for the entire month of September. That's it. Well, actually there are a few rules of Sober September. Follow them, and you will be looking and feeling your best by October 1st.
Rule #1 Talk about Sober September. You must tell the people close to you that you are doing this. Otherwise, who will hold you accountable when you are faced with a drink or a cheeseburger?
Rule #2 Measure yourself on day one of SS, which is actually Tuesday, Sept 3rd, or at the very least, within the first week of September. Take a waist and hip measurement, and weigh yourself if you have a scale. Repeat on Sept 30th. You can also go by how your clothes feel, but I like to be exact about these things.
Rule #3 No cheating. Under normal circumstances, I do recommend a moderate cheat day once a week. But this is Sober September! So for the next four weeks you must eat clean and abstain for the whole month. If you do cheat, you MUST own up to it. My clients know that they have to admit to any indiscretions. Accountability is key!
I will however, permit wine on the Jewish Holidays. My people have got to have their wine for the New Year!
Rule #4 Exercise. Make it a point to do at least two, 30 minute sessions a week of any weight bearing exercise and 150 minutes of moderate intensity aerobic activity, like brisk walking. If you like vigorous activities like running or spinning, then you only need 75 minutes. These are CDC recommendations. You can read more about them here:  http://www.cdc.gov/physicalactivity/everyone/guidelines/adults.html
Going to give Sober September a try? I want to know about! Please leave a comment below or email me at amy.blit[email protected] to opt in. I will check on you throughout the month.