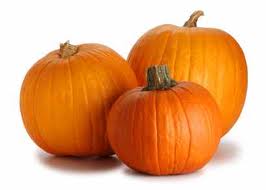 Now is the time when everyone goes pumpkin crazy. Pumpkin lattes, muffins, cookies and of course, pies are all over the place. Unfortunately, most of these foods are loaded with sugar. The good news is that with a can of pure pumpkin puree and a little effort in the kitchen, you can create yummy pumpkin treats that are tasty and good for you. Since after Thanksgiving they'll be practically giving the stuff away, it will also save you a few dollars that you can spend on gifts for your favorite personal trainer…or your child, whichever you prefer.
Pumpkin is a high fiber, low calorie food. This means that adding it to your recipes will help keep you fuller for longer.  Once opened, your can of pumpkin will last in Tupperware for up to a week, which is why I'm sharing three pumpk-tastic recipes.
Pumpkin Smoothie
Pumpkins are loaded with iron, magnesium, and potassium, minerals that promote muscle recovery. A smart addition to a post workout smoothie!
8 oz Unsweetened vanilla almond milk
1 scoop French Vanilla protein powder. Designer Whey is my favorite brand since it tastes great and mixes well.
1/4 cup pumpkin puree
1/2 banana
1/2 tsp of vanilla extract
1/4 tsp cinnamon
1/8 tsp nutmeg
1/8 tsp ground cloves
Or just use pumpkin pie spice, if you happen to have that.
Ice
Honey to taste
Blend it all up. Boom. Done. Serves 1.
Pumpkin Protein Pancakes
These are so good, I may never make protein pancakes without pumpkin again. The combination of pumpkin, eggs and oats makes this an incredibly filling meal. Additional bonus: they will make your kitchen smell good.
1 whole egg, plus 2 egg whites, beaten
1 tsp vanilla extra
1/2 tsp cinnamon
1 tsp sugar
1/4 cup pumpkin
1/4 cup or 1 package of Instant Oats. I like Arrowhead's organic blend of oats and flax.
Mix ingredients in the order listed. Heat up a pan with 1 Tb. of coconut oil. Divide batter so that you are making two pancakes. Resist the urge to just make one mega pancake. It will be nearly impossible to flip and will cause you unnecessary stress. Let one side cook on moderate heat for 3-4 minutes. Flip, press it down a little and give the second side another 3 minutes or so. Serves 1.
I like to top mine with all natural peanut butter and a drizzle of maple syrup or honey.
Pumpkin Chia Seed Pudding
Eleven grams of fiber from the chia seeds plus the three grams from the pumpkin, pretty much means that you'll never be hungry again after eating this snack.
1/4 cup chia seeds
2/3 cup unsweetened vanilla almond milk (or water), Plus a few extra splashes as you go.
1/4 cup of pumpkin
1 tsp vanilla extract.
1/4 tsp cinnamon
1/8 tsp nutmeg
1/8 tsp ground cloves (pumpkin pie spice)
1 tsp or to taste of honey, agave or any sweetener you like
Gently blend mixture, adding the extra liquid as needed. The pumpkin will thicken up really fast. Transfer mixture to a mason jar, then refrigerate. Give it a shake after ten minutes, and again ten minutes after that. Let it chill for at least a few hours. To document the making of this pudding, I made an awesome slideshow with music. You check out my masterpiece here: Pumpkin Chia Pudding: REMIX!