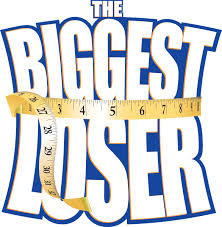 Have you seen the latest article written by a contestant about the Biggest Loser?
If not, read  the first person account of the goings on behind the show right here:
http://nypost.com/2015/01/18/contestant-reveals-the-brutal-secrets-of-the-biggest-loser/
Surprise! BL is not a show that depicts the true process of losing weight and exercising! I have to be a little snarky here because as a trainer, it's obvious to me that the show is dangerous. In coercing (and rewarding) extremely overweight and deconditioned folks to sprint on treadmills and lift heavy weights for hours, I'm surprised there haven't been more injuries than the above article suggests.
I'm also put off by the way they push their sponsor's "foods" as healthy.  The one time I watched the show last season (I swear, it was only once!), the trainers were making "Strawberry Mouse Cups," which consisted of sugar-free Jello paired with Cool-whip Free. They then threw in like two strawberries. Ummm…this is not food, and I hope that people don't think that they have to resort to these types of "snacks," if they want to be healthy.
New Year, New You!
Anyway, we're moving right along into 2015 and I have been trying to come up with an inspiring blog post about how this year is going to be YOUR YEAR. How you should take the opportunity to do something wonderful for yourself- namely, eating healthy, and getting to the gym more frequently. Or to get into any kind of workout at all, in the case of some people.
I'm realizing that I can't write that blog, because I won't be the motivation for you to start your healthy lifestyle.
Please understand. I want so badly to be the reason that you decide to get stronger, fitter, and better in 2015. I became a trainer because I wanted to make my love of exercise and wellness someone else's love too. I suspect (and hope) that my friends and clients will recall how they've tried new exercises, eaten new things, gotten up early for an extra workout because of something I have said. I'm always thrilled if I can inspire in that way. But here's a thing I've come to understand about someone who has not been able to make fitness and healthy eating a regular part of their lifestyle:
Motivation comes from within.
Yes, that statement is cliche but it's said for a reason. I know you can do it, but the most important thing is that you want to.
If you're ready, I offer online training for those that need a little guidance:
The 4 week program includes:
Weekly, 30 minute phone calls or skype to discuss the exercise and nutrition plan, your progress, and areas that need improvement. These meetings are vital to ensure you are doing the program correctly and sticking to it!
Exercise program based on your fitness level and goals
Nutrition planning, including shopping lists
Nightly email check-ins to keep you accountable to the plan
This program is great for beginners and for those with experience as it is as close to training with me in the real world as possible.
Email me at [email protected] or message me for information!
.