My first couple of days on the Paleo Diet have been pretty easy, and delicious! Paleo definitely requires a lot of cooking, though. This week, I made sure I was fully stocked with wild-caught cod, shrimp, grass fed beef, and pork tenderloin. As usual, I'm thankful for the Trader Joe's in my neighborhood. These items are a pricier than the regular stuff, but you can find most things at TJ's for a lot less than Fresh Direct and Whole Foods.  Meat pictures aren't so pretty, but just look at these beautiful paleo-friendly fruits and veggies I picked up: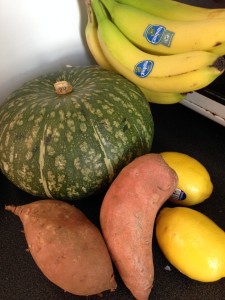 The big green guy back there is a Kabucha squash aka Japanese pumpkin. I haven't cooked it yet, but I hear it tastes like a cross between a butternut squash and a yam. I'm saving that starchy squash and sweet potatoes for those days when I am very active, and exercise longer than an hour. They'll be perfect for my long run days. Oh, wait. About all that running I was supposed to do this month–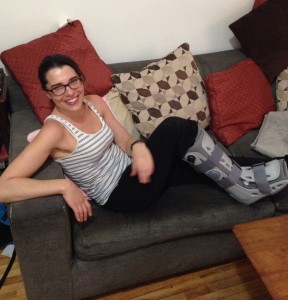 Oops!
Apparently I have a benign cyst on my foot that has been the culprit of all my ankle woes. The MRI is tomorrow. Not that I don't just LOVE wearing this Aircast boot, but I'm crossing my fingers that I'll be out of it in a few days.  I can still lift weights and ride a spin bike so I'll be sticking with my exercise routine and keeping busy. And if you see me hobbling around town in my boot, why not slow down and walk with me, ok?
Back to the good stuff–the food. The exclusion of grains from my diet has forced me to be a little experimental in the kitchen. Yes, it is just a diet of vegetables, meat and fruit, but I know I'm going to get bored if I don't add some variety to my day. So, instead of my usual pre-paleo turkey wrap for lunch, today I made a simple crab salad with avocado, yellow peppers, and lemon juice, served up in some lettuce cups.
It was the bomb.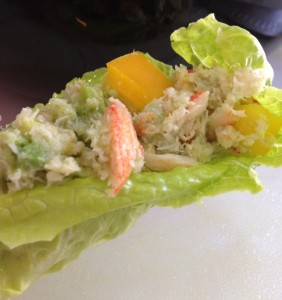 Got any questions about Paleo? Or some kick-ass recipes for me to try? Don't be shy and let me know!
[contact-form-7 404 "Not Found"]