Question for Blitz Your Body: I've recently been choosing plain yogurt over vanilla to save calories, but find plain yogurt so unappealing. Should I go back to vanilla? How much am I really saving?  –Lisa
Don't worry about calories. When it comes to yogurt, pick the most natural option that offers the benefit of probiotics, a little fat, and very little sugar. Vanilla flavoring almost always means the addition of chemicals and sugar. I'd rather have 150 calories of Greek 2% yogurt, than 80 calories of fat free chemicals any day. And, if you go Greek, the 18 grams of protein in the Greek yogurt will keep you feeling fuller longer than a flavored yogurt, so the extra calories won't matter in the long run.
If plain yogurt is too, well, plain for you, I've got a simple and delicious way to jazz it up: Blueberry Chia Jam! The jam will give you that "fruit on the bottom" experience without adding a lot of sugar. Plus, blueberries are high in vitamins and antioxidants. I could go on and on about them but instead I'll just send you here: http://www.whfoods.com/genpage.php?tname=foodspice&dbid=8
Blueberry Chia Jam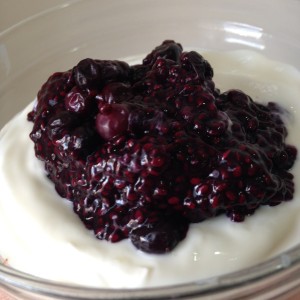 Serves 1
1/2 cup blueberries
I like frozen wild blueberries from Trader Joe's. Wild blueberries are smaller than cultivated blueberries. Since most of the nutrients are in the skin, wild berries are a better choice because you'll be eating more skin per serving. Any type is fine though!
1 TB Chia seeds
2 tsp water
Honey, maple syrup or stevia to taste.
I used 1/2 tsp of raw honey
Add all of the ingredients in a microwave safe bowl and stir. Microwave for 1 minute. Stir. Microwave again another 15-30 seconds.
Let it sit for 10 minutes.  Serve with plain Greek yogurt or refrigerate for later.
Caution: Making Blueberry Chia Jam will make your hands look like this: