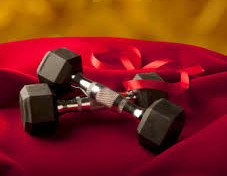 This month DO NOT Blitz Your Body. Instead…Blitzen Your Body!  To honor my favorite reindeer, I have created a quick and easy-to-remember circuit, that will get you in and out of the gym in 30 minutes. You'll burn calories, boost strength and endurance, plus get your endorphins flowing right in time for the holiday. And then, once the New Year comes around, you will already be ahead of the workout game.
Oh, and as an added bonus, I have included a special EGGNOG PROTEIN SMOOTHIE recipe at the end. Try it after your workout to aid in muscle recovery.
5 minute warm up
1/4 mile treadmill run at moderate pace – Don't like running? That's fine. Substitute any treadmill running portion of this workout with a treadmill hill walk, 5 minutes of stairmaster, or 1 minute of jumping jacks combined with 1 minute of mountain climbers and another 30 seconds of jumping jacks. This is the cardio portion, so just get your heart rate up for at least 2.5 minutes.
15-20 push ups: Works chest, triceps, back and core muscles.
15 side lunges (per leg) Works glutes and thighs
15-20 of any type of row. I love TRX rows, but you can also do a bent over dumbbell row. Works the muscles of the middle back and biceps. 
Plank for 30-90 seconds. Works the core stabilizing muscles and shoulders.
50 bicycle crunches. Works the obliques and abdominals
10-20 Forward lunges with a bicep curl AND an overhead press. This is the move that will get your heart pumping again after the core work. Grab a set of light to moderate weights. With the dumbbells in both hands, step forward into a lunge. With your back knee hovering above the ground, do a biceps curl, ensuring that you keep your elbows close to your torso. Flip your grip so that palms face forward and perform an overhead press. If you are a beginner  then just perform the curl. Lower your arms and step your back leg forward. Repeat on the other side. Works legs, glutes, biceps, shoulders, triceps and core muscles.
Rest for 1 minute or more if necessary. Go back to the treadmill or the cardio of your choice. Try to increase the intensity of the cardio portion by either going a bit faster or increasing the incline/resistance. Repeat weight circuit.
Do this circuit 2-3 times. If you have extra time at the gym, add some small muscle group exercises like triceps extensions and lat shoulder raises at the end.
And now for the NOG!
Blitzen's Eggnog Protein Smoothie
1/2 cup Silk Nog (this will provide the eggnog taste without the egg nog fat and calories)
1/2 cup unsweetened vanilla almond milk
1 TB chia seeds (optional)
1 scoop Designer Whey Vanilla Protein powder
1/2 tsp vanilla extract
1/2 banana (frozen is best, but if you only have a fresh one, add more ice)
1 dash ground cloves
1 dash ground nutmeg
1 dag ground cinnamon
2 ice cubes
Combine Soy Nog and almond milk in your blender. Add chia seeds. Allowing the chia seeds to soak in this liquid for a few minutes will make your smoothie extra thick. Add the rest of your ingredients and blend, adding a bit more almond milk if it becomes too thick for your taste. If you need more sweetness you can add a bit of honey or liquid stevia, just adjust calories accordingly. I like it as is.
Serve over ice.
Serves 1. With chia seeds: 300 calories. 7 grams fat. 11 grams fiber. 7 grams sugar.