The Philly Rock 'n' Roll Half Marathon was this past weekend. Not only did I set a personal record by running the entire thing in 1:30 min, but the headlining band at the post race concert, Rusted Root (never fear, they're still alive) actually brought me up on stage and asked me to sing back-up vocals for Send Me On My Way 
And then I woke up, and realized I'm still not allowed to run around the block, let alone a half marathon.
Yes, I'm still banned from running. It's been almost six months since my last run.  After all this time, you'd think I would be used to sitting on the sidelines. But not being able to run still pains me, especially as the temperature cools down, and every day becomes "perfect running weather". Fortunately, I'm able to work on the cardio equipment and do some lower body exercises to keep in shape, which is pretty much saving me from going stir-crazy.
Since cardio machines can be pretty boring, lately I've been using compound body-weight exercises to get my heart rate up. They even have fun names. I am especially fond of the spider man-mountain climber, with a little push-up action added in.  You can insert this challenging move anywhere in your workout. It's a total body exercise that really gets your heart rate up.
Here's a little video I made on my phone to show you:
Try it and let me know!
Being a bit bummed by the lack of running in my life doesn't mean I can't go to races and be a kick-ass cheerleader for my friends.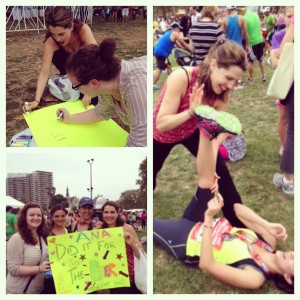 Turns out I'm pretty great at making signs. And of course, I'm always happy to help someone stretch their sore hammies.
The Philly R 'n' R Half is quite the party, with bands along the route and free beer handed out at the finish. And although I didn't get the chance to eat a cheese steak, I did finally get a tour of the city I missed out on in 5th grade (I got sick during the field trip and had to lay on a chair in a hotel lobby all day).
And Now A Very Important News Article
Apparently Pizza Hut is testing out the "Skinny Slice", which I  will be avoiding at all costs once it hits New York City. Much like I abhor "skinny margaritas", a low-cal pizza just doesn't do it for me. I eat healthy foods all of the time. So when it's splurge meal time, I'm going for it baby!
http://www.takepart.com/article/2014/09/20/and-pizza-huts-latest-offering-is-skinny-slice-pizza?cmpid=foodinc-fb
What do you think? Will you be trying out the "Skinny Slice"? Or will this go the way of the Burger King "Satis-fry"?
Facebook.com/blitzyourbody Twitter @AmyBlitz1