My experiment is over and I'm more than happy to be back to eating an all-inclusive diet again! For each the past three months, I have been following  a different lifestyle diet. I kicked things off with Paleo, then went vegetarian, finally ending with vegan. Veganism was tough, but I perservered! Ok Ok, I admit, this is how I really felt:

Yes, I HATED IT! Sorry vegan friends, it's possible that if I tried it first I would have loved it, but  sadly, that fortune wasn't written on the back of a soybean. Part of my dislike for the plants-only diet was that I did it last, and after two months, I was totally over having restrictions on my diet. Or maybe it was my terrible and terrifying belly-bloat from all the fibrous foods.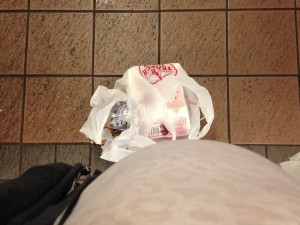 Me, looking down at my belly. NO. I'M NOT PREGNANT.
Vegan Diet: The Breakdown
Difficulty: Hard to stick with. Boring. I really missed fish and cheese (not together, that would be gross).
Expense: As inexpensive as vegetarian since plant products are cheaper than animal ones. However, I spent more on vegan restaurants than I normally would. I spent about $250 on groceries that month, but probably $150 on ordering out.
What I Ate: I pretty much ate my weight in nuts, nut butters, and avocados. I even put almond butter on my sweet potatoes (it's actually really good, I think you should try it). Dinners were mostly huge bowls of sauteed veggies with either beans on tops or a baked sweet potato. I ate more tofu than ever and discovered a love of Soba noodles. I ate a lot of avocado toast for breakfast or even a snack (probably too much).
Energy Level: Normal, I did not notice a change from the previous month.
Body Changes: This is interesting. One would expect a new vegan to have some weight loss but I actually gained weight. Nothing dramatic, I am actually the same measurements as I was before I started the project. Why the weight gain? I believe this has a lot to do with all the fat I was eating. Yes, they were healthy fats. But too much of a good thing…well you know how it goes. Also, those vegan restaurant meals aren't always healthy, just because they're made of plants. There is such a thing as vegan junk food, and I definitely partook.
So, now what?
I am blending all three diets into one super healthy, super "clean" diet by going vegetarian during the day and eat paleo-style at night. This way I get the best of everything the market has to offer, without over-doing it on a certain food group.
Also:
I will have less reliance on cereal grains. This does not mean none, my paleo peeps. Just less.
I'll get my carbs by eating starchy vegetables and beans. You must eat these if you are active. Otherwise you will burn out during your workouts.
I'll try to eat only grass-fed beef, organic chicken, and fresh-caught fish as much as possible. This is something I never thought too much about before I tried Paleo, but now I'm hooked.
Before I close the page (FOREVER) on veganism, let me share a recipe I came up with to minimize my time chopping veggies in the kitchen. I use the term "recipe" loosely, as there's not too much to this meal. I made it specifically for the cooking-challenged folks out there, which includes myself. It is a no-chop, no-prep, meal that is also totally vegan.
No-Prep Tofu Stir Fry with Peanut Sauce
Feel free to add whatever you want to this; different veggies, chopped garlic, cilantro, etc…just keep in mind that it will no longer be "no-prep"
1 cup bagged kale
1 Tb coconut oil
1/2 bag of broccoli slaw
1 package of diced organic, firm tofu
Start by steaming the kale for about 5 minutes in a pan with a little water and a pinch of salt. Add the coconut oil, broccoli slaw and tofu. Stir fry for about 3- 5 minutes. You don't want the broccoli to over-cook and get soggy, so keep an eye on it.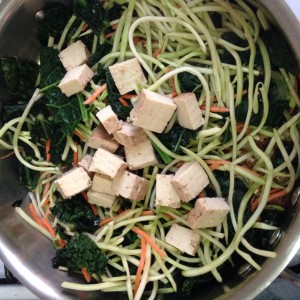 While that's cooking, start on the sauce
3 TB soy sauce
1 TB natural, smooth, peanut butter
1 tb apple cider vinegar or rice wine vinegar
1 tsp chili flakes
1/2 tsp garlic powder
1/2 tsp of coconut sugar (optional, if you want a little sweetness to your sauce)
Chopped nuts
Add the sauce and cook for a minute or two.
Your no-chop, no-prep meal is done!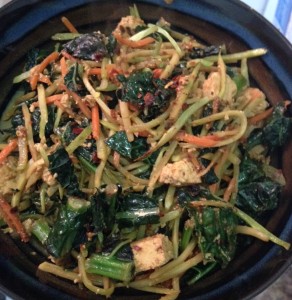 Boom! Drop the mic. Walk away.
Facebook.com/blitzyourbody Twitter @AmyBlitz1