Happy New Year!  Disclaimer: This is my  favorite time of year.  I love working with people who have resolved to get fit after the ball drops. Conversely, this is also the time of year that I hear a lot of excuses as to why people are NOT making regular exercise their priority. While a person's reasons for not exercising MAY be completely valid, I am here to bust (or blitz) those excuses, and get you on your way to a healthier and happier 2014. Here it is, the list of reasons I hear most from people who are not working out.
I Hate to Exercise
Exercise doesn't have to be a 60 minute slog on the treadmill or a series of unending crunches. If traditional exercise techniques don't appeal to you there are ways to be active that don't feel like "torture". Dance classes, swimming lessons, pilates, yoga and walking are just a few ways that will help you move more without touching a dumbbell. The other option is to enlist a friend or workout buddy to meet you at the gym and join you in a sweat session. BUT, if even after that you don't love it, just remember this: I have never met anyone who does not feel great after a workout.  Exercise is beneficial both physically and mentally. I promise you'll feel more confident and proud of yourself after your workout. Remind yourself of that feeling anytime you start to hate.
You Don't Have Time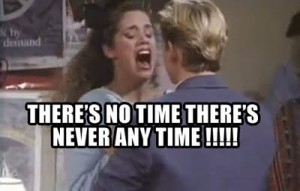 This is the one I hear the most. You can find the time, it just takes a little effort. Pack up your gym bag at night and wake up a little early. Create a walking lunch club at work. Cook a lot of food on Sunday so you can devote at least 3o minutes after work to some exercise. I have done all of these things and they do help. You need to schedule your workouts like you would schedule a meeting. Whenever I'm training for a race, I put my running workouts on my iPhone calendar so they pop up with all my other appointments. Even if you can only make times for 30 minutes, five times a week, you will improve your fitness level and depending how intensely you work, can lose weight too. I promise, after one month it will start to feel like a normal part of your life.
The Gym is Intimidating aka People Will Look at Me
I totally get why the gym may scare you off at first, especially if your point of reference are those ridiculous Equinox ads.
The truth, and I've been saying this for years, is that everyone at the gym is too busy checking themselves out to give you a second thought. Yes you may have seen the stud by the weight rack taking a peek at you, but it is most likely that you caught his eye while he was admiring his own delt– so relax and get your sweat on. It's all good.
The Gym is Too Busy/ The Trainers Will Bother Me
Very true! It will be very busy in January. But give it a few weeks. By February, the crowds die down and you will be there with all the regulars. And that's what we want–for you to be a gym regular, not just a "January Jane". (I just made that up, but maybe we can make that a thing?)
As for the pushy trainers, also true, but here's the thing: it's their job to approach you and yes, to sell you training. If you really don't want that, keep your ear buds in. Of course,there are some clubs where the trainers are especially aggressive. Ahem, I'm looking at you New York Health and Raquet. In that case, I recommend a friendly but firm "no thanks". A friend of mine once faked an injury just to keep the NYHR staff from bothering them, so that's an idea too.
You Have No Idea What To Do
A personal trainer's job is not only to work you out, but to make sure you know how to exercise on your own. Don't feel like you should be in shape to get the most out of a trainer. We love to teach and get you on the path to self-efficacy. You can also learn a thing or two from a group class, although I recommend telling the teacher you are newbie before the class begins. If a trainer or classes are not possible for you, then I recommend the rule of five. Pick five exercises for the day and repeat them circuit style for 30 minutes. Alternate upper body, lower body, pushing and pulling during your circuit, to allow your muscles to recover between exercises. Whatever you do, don't walk into the gym for the first time ready to recreate the P90X commercial. You need to build a solid foundation in order to avoid injury and both physical and mental burnout.