As if we needed more options in the yogurt section of the supermarket, there have been a few new products added to the shelves. Yogurt is such a great snack for either pre or post workout. It has carbohydrates to fuel your body before you exercise and protein to build muscles afterward. Are these new products worthy of being added to the snack rotation? Here's the rundown:
Siggi's Yogurt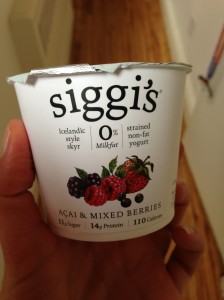 I really wanted to try this stuff after it came highly recommended by one of my clients. Siggi's is Icelandic strained non-fat yogurt that you can find in organic markets, since the milk they use is hormone free. I've also seen it at Gristedes and Fairway. But at $2.50 for a five ounce container, I was hesitant to buy it. What if I loved the stuff? Then I'm stuck buying pricey yogurt for the rest of my life. Well unfortunately for my wallet (but fortunately for my taste buds!) this yogurt rocks. It's super thick and creamy, has 110 calories and just 11 grams of sugar. It also packs 14 grams of protein so it is really filling. The good news is that it's often on sale at Fairway. Also, the company sweetly sent me coupons after I raved about them on Twitter. Now if I can just build up the nerve to use them in an NYC supermarket. It's intimidating to use coupons here. I don't know why.
Chia Pod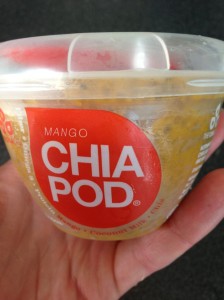 Gross. Don't get me wrong, I love chia seeds and chia pudding. I make it myself with almond milk (simple recipe below) and I've gotten it at Organic Avenue to the tune of $8.00 a jar. So I was excited to see that Chia pudding had hit the main stream and was making an appearance at the grocery store. Nowadays, everyone is touting chia seeds as a "super food" because they are rich in Omega 3 fatty acids and because of their high fiber content. I could (and probably will) write an entire blog about the wonderful chia seed. Alas, the Chia Pod is pretty vile. I like the texture, but the flavor is off-putting. I tried mango. Maybe if you try a different flavor, you will have a better experience. Anything's possible. If you want to give it a try, it's about $2.60 for a six ounce container and comes in a few flavors. A serving is 149 calories, 9 grams of fat, 3 grams of protein and 11 grams of sugar. Good luck with that.
Powerful Yogurt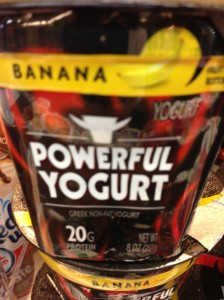 The yogurt for men. The label has a bull on one side and a picture of a man's abs on the other, so you know it's serious and for DUDES ONLY. After studying the label, the main difference between this and any other yogurt is that there are 20 grams of protein instead of 17 grams in Greek yogurt, or 14 grams in the aforementioned Siggi's. There are also 21 grams of sugar in this bad boy! To put that in perspective, there are only 11 grams of sugar in a serving of Entemann's cookies (don't ask me how I know this, I just do, OK??) Powerful Yogurt tastes similar to Dannons, so there is nothing special taste-wise. I guess all that sugar must be expensive, because it's a dollar more than Fage Greek yogurt. If I were a man, I'd save my money and just eat the "girly" stuff.
If you've got any special grocery store snack finds, please let me know!
Chia Pudding
1/4 cup chia seeds
2/3 cup unsweetened vanilla almond milk (or water)
1 tsp vanilla extract.
1 tsp or to taste of maple syrup or any sweetener you like
Don't listen to the interwebs when they tell you not to use a blender when making your chia pudding. You absolutely should blend this mixture in a blender (gently and just for a few seconds) and place mixture in a mason jar. Put in fridge. After about 10 minutes, give the jar a vigorous shake. Otherwise your chia seeds will clump. Still edible, but weird. Let it sit overnight for an awesome breakfast or snack. Add a small amount of granola or slivered almonds for texture.