Netflix = fitness? Yes. Having recently finished the awesome second season of Orange is the New Black, I decided to switch over to documentaries. I just finished Hungry For Change, which I highly recommend if you have 90 minutes and an interest in our ridiculous wacked-out diet industry.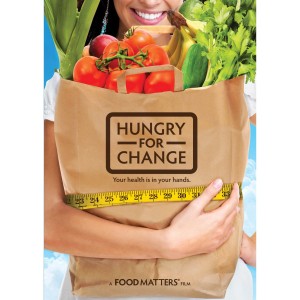 No time to watch? Here's the film in a nutshell:
It's not our fault that we as a society are overweight and not able to lose the extra pounds. Human beings are genetically predetermined to consume high calorie foods, so that we'll be prepared in times of famine. And of course, since there is no famine, we get stuck with all that extra weight.
The food industry employs tactics used by "Big Tobacco" in the 1960's to make their products more addictive, like adding more sugar and MSG than ever before.
The combination of seeking calories and consuming fast and processed foods means that we are over-fed, yet malnourished. This state of being leads us to seek yet even more calories.
We can heal our bodies by eating the right foods like chlorophyll rich foods (dark greens) and gelatinous cleansing foods, like chia seeds and aloe, and obviously avoiding processed foods.
It was a truly insightful film, and well worth a look. It's not exactly a date movie, but it will make you want to eat a date. That's for sure.
Grand Opening
To me, checking out the hot new club in NYC always means a new health club. You wouldn't want to see me dance anyway.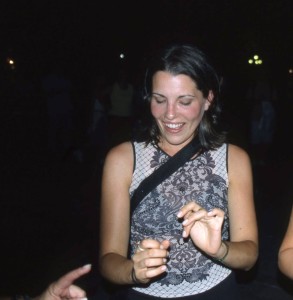 What the hell am I doing here? 
Last week I was lucky enough to snag a reservation for the opening of new group exercise studio, BFX in Chelsea. If you like indoor studio cycling, Pilates, and TRX, this place is definitely worth checking out. I took a "Classic Ride" and am looking forward to trying out Pilates. The place is brand new and gorgeous.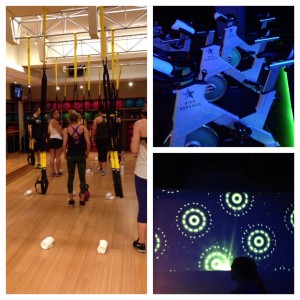 TRX Room, new bikes, and a light show while you ride. 
What's the difference between BFX, and Spinning in general–from places like Soul Cycle and Flywheel? At Soul and Flywheel, the instructors take time to do an arm routine with 2 lbs weights while cycling on the bike. Sometimes they do push-ups on the handlebars! BFX (which is an official Spinning facility) is cycling at its purest form, and only focuses on the ride. It's more athletic than the others, and feels more like  actually training and riding outside.
Without totally geeking out on Spinning talk, I do enjoy an energetic Flywheel class everyone once in a while. I just never do the arm routine. When I'm cycling, I like to cycle. When I want to weight train, I do real push-ups and strength training with my feet on the ground. To do otherwise is actually unsafe. Read this article if you want to hear about why it's not such a great idea do to things on an indoor bike besides ride it:  http://www.spinning.com/media/spinning_instructor_news/2013-4-1.html
Now let's dance!