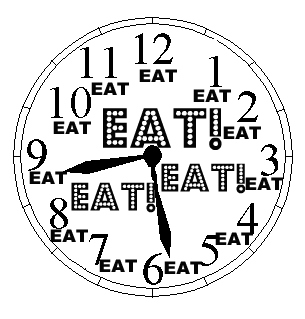 A couple of weeks ago, I put an article on my Facebook page about a recent study that analysed the importance of meal timing.
The article appeared in the New York Times Magazine January 18th. The researchers compared two different studies on meal timing.
…in a previous study…some mice consumed high-fat food whenever they wanted; others had the same diet but could eat only during an eight-hour window. None exercised. The mice that ate at all hours soon grew chubby and unwell, with symptoms of diabetes. But the mice on the eight-hour schedule gained little weight and developed no metabolic problems. Those results were published in 2012.
For the new study, which appeared in the journal Cell Metabolism in December, Salk scientists fed groups of adult males one of four diets: high-fat, high-fructose, high-fat and high-sucrose, and regular mouse kibble. Some of the mice in each dietary group were allowed to eat whenever they wanted throughout their waking hours; others were restricted to feeding periods of nine, 12 or 15 hours. The caloric intake for all the mice was the same.
The new study found that the mice that were allowed to eat at all hours of the day were obese and that restricting the mice to just a 12 hour eating window was enough to keep the mice "sleek and healthy"while eating the same diet. They even allowed them to cheat on their schedule on the weekends!
I have practiced intermittent fasting (going 14-16 hours between meals) for almost two years and am happy with the way I look and feel without being super strict with my diet. I still have to eat a healthy, balanced, diet, but intermittent fasting allows for a few "indulgences" without the guilt. Next week, I'll share my tips on how to successfully fast, based on my own experience. For now, if you are looking to try this approach, I warn you that the results are not immediate. You must commit for at least a few weeks, and in some cases a few months, to see if this is the right approach for you. Check with your doctor before starting. Hypoglycemics, diabetics, and pregnant women should avoid time restricted eating.