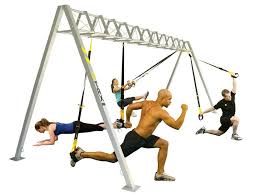 If you belong to a gym, then by now you have seen the TRX straps hanging around. You may also notice that the TRX station is almost always being utilized by the trainers and their clients. Simply put, the TRX suspension straps are one of the most effective and functional fitness tools to be developed in years. It allows the entire body to be trained without having to move from machine to machine. The TRX uses gravity and your body weight as resistance. Since you must control movement from an unstable position, you are building your core, flexibility, balance and, of course, strengthening the muscles you are focusing on.
Below are my top three, easy to master, TRX moves. However, if you are curious about the TRX and plan on adding it to your routine, I highly suggest you get at least one personal training session to really perfect the form. While the TRX is extremely safe, you should make sure you are doing it correctly to avoid injury.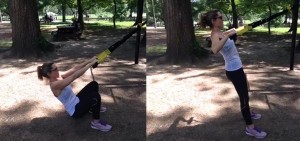 The Squat and Wide Grip Row
What it works: Legs, Upper back, biceps and shoulders
Stand at angle to the anchor point, with your arms straight and your palms facing down. Your weight should be on your heels. In this picture, my legs are far apart, making it easier. Position your feet closer together if you are more advanced. Lower your butt towards your calves, then push through the heels while you row your arms back . Your elbows should be away from your body. Give your shoulder blades a light squeeze at the top of the motion.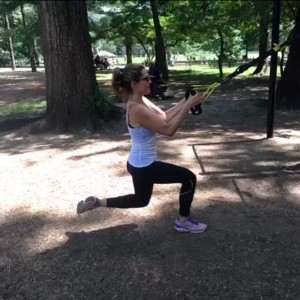 The Single Leg Balance Lunge
What it works: Core stability and legs
Start by gripping the handles in a neutral grip (palms faced in). Before you try balancing, just perform a regular reverse lunge while holding onto the straps. Practice keeping your body centered and your knee over your ankle. If you are brand new to exercise and don't have lower body strength, then this is where you should stay for the time being. Otherwise, perform a reverse lunge, but don't allow your back foot to make contact with the floor.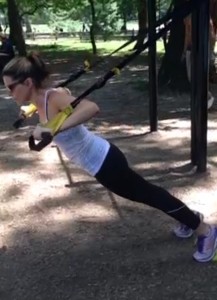 Suspended Chest Press
What it works: Shoulders, chest, triceps and core
Get in a standing push up position with your hands holding onto the straps at chest height. Beginners should have their feet close to where the hands are holding on to the handles, while more advanced people can walk their feet back. As if you were doing a push up, lower your chest towards your hands. Press back up to start. Make sure your core is engaged. If the straps are rubbing against your arms, you can position your hands a bit higher.
For each exercise, perform anywhere from 10-20 reps, depending on your fitness level. Once you master these basic moves, I suggest moving through them quickly to get your heart rate up. Why not burn a few calories while you work on strength?
You can check out the entire TRX flow by going here: TRX Workout