Working out is so much more fun when you have a buddy with you, right? Shout-out to my girl Angie, who's been kind enough to come all the way from Queens over to my gym, and lift weights with me! See, ever since I've been wearing this beautiful boot…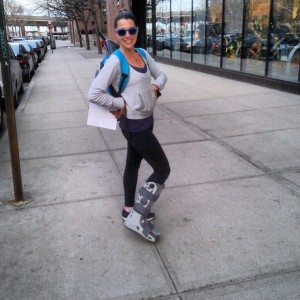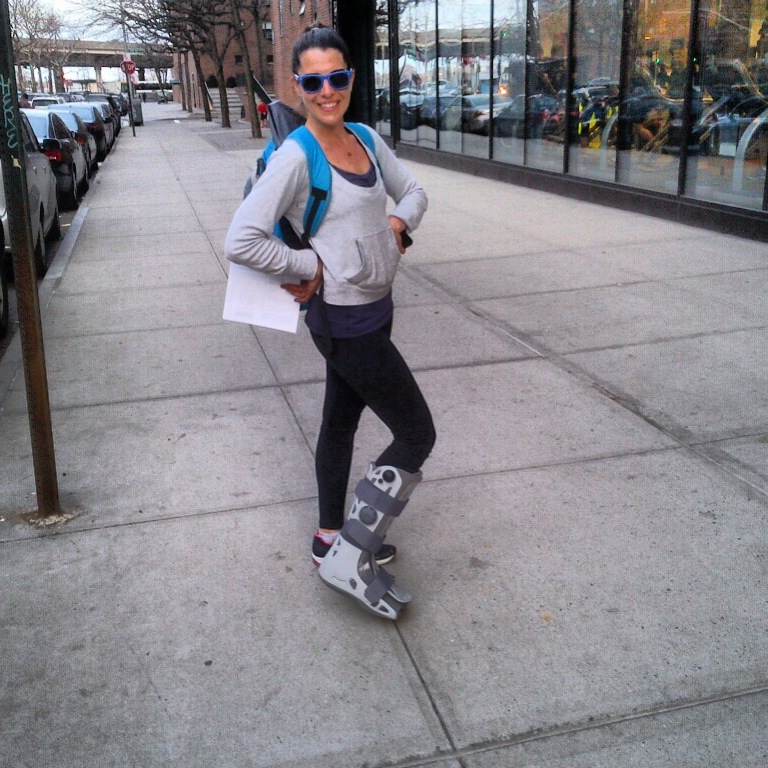 Woomp, there it it-thought you knew…
…my work outs have been pretty perfunctory. But when I have my gym buddy, we have a great time challenging each other. In fact, if you happen to see us together in the gym, stand aside because Angie and I are getting the job DONE. (Just kidding, actually, come talk to us, cause we're really friendly).  So my only fit tip this week is this: if you're in a fitness funk, not motivated, or just generally feeling down, grab a friend and get moving. I can now speak from experience, and tell you that the combination of exercise and good company is a one-two feel-good punch in the face.
Paleo Time!
It's officially the end of week two of my little experiment and I gotta say, I love Paleo! I was very skeptical at first, however I feel energized, focused and even a little lighter. I don't miss the foods I thought I would miss like yogurt and oatmeal, two very major staples in my life up until now. One tidbit: after a pizza cheat night, I thought it would be smart to go very low carb for a day or two and only have protein and vegetables. Not. Smart. And I know better; a little bit of pizza would not be enough carbs to get me through a few days of  low carb eating. Let's just say I  MAY have been a little moody. Actually, let's also just say that I MAY have wanted to tell off every single person I encountered on the subway during my commute, and MAYBE I  cried because I missed a train because my boot was making me walk too slow. But, don't worry, I figured out my problem , and promptly ate an apple, which pretty much changed my life. So, lesson learned. If you ever try paleo, eat your fruit!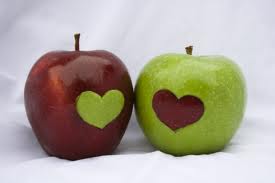 I've been cooking A LOT, so there are always veggies to chop and some kind of mess to clean up, which I admit is kind of a pain. But, and I think everyone will agree on this, it is just so much better to cook your own meals. Even when your order out healthy food, you never know what they are putting into your dinner.
Speaking of cooking, do yourself a favor and make this in your crock-pot for an easy, paleo friendly meal that you can totally serve with brown rice if you want to. I had mine on top of spaghetti squash.
Slow Cooker Cilantro Lime Chicken
from Allrecipes.com
1 jar of salsa without preservatives (Newman's Own is good)
Taco seasoning (Google up how to make your own and avoid all the sodium in the package)
1 lime or 1/2 of lemon (I used lemon cause that's what I had)
1 handful of cilantro
3 lbs of skinless, boneless chicken breasts
Mix it up all up and cook on high for 4 hours, or low for 6-8. Top it with a little bit of chopped avocado. It's really good!
It's a proven fact that crock pot food does not look good in pictures, so no food pic on this one. Instead, enjoy this picture of my boot enjoying a Yankee game.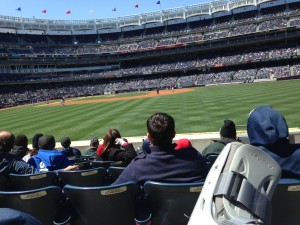 [contact-form-7 404 "Not Found"]