There's a myth out there that people naturally slim down during the hot summer months…something about the higher temperatures making it too uncomfortable to overeat. Yeah right! Personally, the warm weather makes me want to eat more fro-yo, and go to more happy hours. When you factor in vacations and long weekends, the little indulgences can really start to add up.
I can't be alone in this. In fact, I know that I am not. In the past few weeks, I've been asked by a number of people to create a month-long challenge that will inspire a healthier lifestyle, and help shake off that extra summer weight.
So, here we go…
The 28 Day Blitz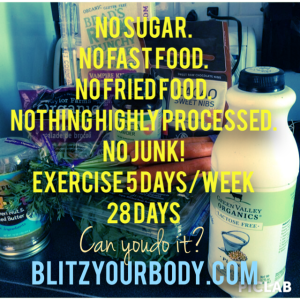 No sugar is pretty self explanatory. It also means no white bread or pasta–these foods convert too quickly in your body, and spike your insulin levels, just like sugar does.
No fast or fried foods– a no-brainer.
Nothing highly processed– no soda, no scary Kraft products, nothing "light" or "fat free"…if it comes out of a package and has a ton of unfamiliar ingredients, stay away.
No junk: cookies, crackers, bagels, pizza, burgers, fries, cupcakes, ice cream,  frozen yogurt (yes, even fro-yo!)
So what can you eat? This is NOT a deprivation diet. I want you to eat REAL food and measure your portion sizes. Your exercise goal, if you accept, is to move your body five days a week. These five days can include a long walk, your favorite yoga class or intense HIIT training, you just have to get going.
Take this month to clear out the junk in your cabinets AND in your "trunk."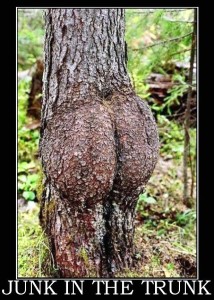 I couldn't resist!
And since I don't want you to feel totally deprived, give yourself one "cheat" meal and one "cheat" snack each week. Also, you'll notice that I haven't banned booze. But let's try to limit alcohol to 1-2 glasses of wine a week.
Every week I'll feature a workout, healthy meal ideas, and encouragement to help you through the next 28 days. If you want to really get serious, measure/weigh yourself, or take a "before pic" before you officially start. By October, I hope you are looking and feeling better than ever!
So, what do you say?
Talk to me FB.com/blitzyourbody or Twitter @AmyBlitz1