Don't forget the 28 Day Blitz is ON!!! No junk for the rest of the month! Yes, I am aware that football, aka, buffalo wing season has begun. My advice is to have a taste and then move along to something healthier. Here's the link I posted a few months ago to a delicious paleo-friendly buffalo chicken that is grain-free and baked.
http://stupideasypaleo.com/2014/03/30/crispy-buffalo-chicken-fingers/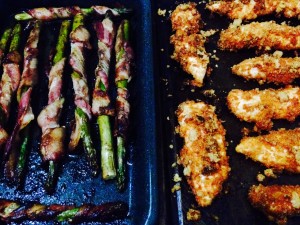 This is the pic I posted a while back when they were made for me. Turkey bacon  wrapped asparagus is optional.
 Your body will thank you!
And now a question for Blitz Your Body …
Amy, I have a question for you. When I do a lot of exercising (mostly walking and biking each for 30 min to an hour), I end up so very, very hungry the entire next day. Is there something that should be eaten before or after exercise to help curb this spike in appetite?–Linda
Before we get to the best foods to fuel and nourish your workout, let's make sure that what you are experiencing isn't really thirst. Many times, we are dehydrated and not truly hungry, so you must drink a lot of water, especially on your active days. How much does that mean? Well, there isn't too much evidence that proves the "8-8 oz of water" per day rule is actually true.  But, the Mayo Clinic suggests that women take in 2.2 liters (9 cups) and that men take in 3 liters (13 cups) a day, adding an extra 1.5 to  2.5 cups when you exercise, which is pretty close the the conventional wisdom of 8/8 glasses of water. 
Here's an accurate portrayal of what I look like drinking my water, post-workout: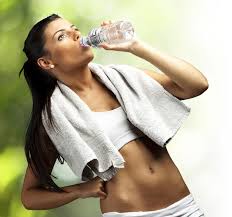 Yes, I wear pearl earrings when I workout. You don't???
Now for fuel. We need to pick foods that will satisfy your hunger and be in line with your fitness goals. Pre-workout, you want to make sure you eat healthy carbohydrates that will give you energy without weighing you down. The closer you are to your exercise session, the simpler the food should be.
What I eat BEFORE a workout
A handful of grapes (15-30 min prior)
Banana with peanut butter (30-60 min prior)
Coffee Smoothie (60 min prior-recipe below!)
Half Ezekial English muffin with almond butter (60-90 min prior)
Fruit smoothie with half scoop protein powder (90-120 min prior)
Nothing.
That's right. Sometimes I don't eat before I go to the gym. My body is used to a fasted workout and sometimes I just grab a coffee and go. 
What I eat AFTER a workout
Carbs + Protein = a satisfying post-work out meal or snack that will keep you feeling full. Stay away from heavy fats, since they inhibit your body's ability to quickly process all the good stuff.
Fruit Smoothie with whole or half scoop of protein powder (cardio or weight training)
Eggs with 1/2 cup of rice or half a potato and green veggies (cardio or weights)
Plain 2% Greek yogurt (cardio or weights)
A veggie wrap (cardio)
Roast or grilled chicken (usually left-overs) with veggies (weights)
Coffee Talk
I recently discovered that freezing coffee in ice cube trays is an easy and tasty way to add a little zip to my protein shakes.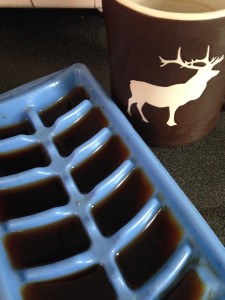 My moose mug is my best friend.
Moderate amounts of caffeine can naturally enhance your exercise performance. The better your performance, the more your calories you burn, and you can have greater strength gains. Just brew a strong cup of coffee, then freeze.  Side note: coffee cubes are also great for homemade iced coffee!
Coffee Protein Shake
Blend the following:
8 oz unsweetened almond milk
half or whole scoop of vanilla protein powder
1/2 frozen banana
1/2 TB of peanut butter (if you want to bulk it up a bit. It's good without too)
1 TB raw cocoa nibs or cocoa powder
1 Tsp of psyllium seed husk powder
3-4 frozen coffee ice cubes
A drizzle of maple syrup (or any natural sweetener) to taste.
Sometimes I throw a TB or 2 of raw oat bran to increase the amount of fiber. 
Try it as a pre-workout fuel source, or a perky mid-day snack. Let me know what you think!
Facebook.com/blitzyourbody and Twitter @AmyBlitz1